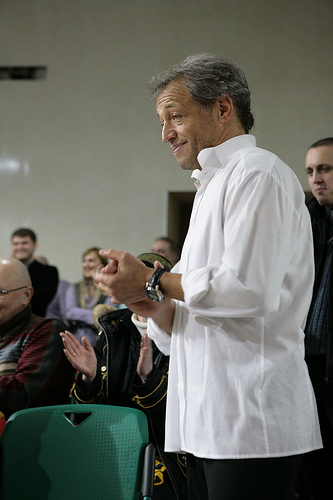 Chairman of the Supervisory Board of Finansovyi Soyuz Bank (FSBank) considers that bringing up the issue of the national banking system with the international community is a hasty decision made by the Association of Ukrainian Banks. This was stated by Dmitry Fomenko, Chairman of the FSBank Supervisory Board, at a public meeting in the Center for European Democracy Studies. "Such steps taken by Ukrainian bankers contravene the conventional ethics of relationship between a banking system and government and could give rise to mistrust of international community in all Ukrainian financial and banking system. It's hard to imagine that, for example, Swiss bankers could ever complain to international organizations about their national government. Who will take such banks and all our financial system seriously outside Ukraine after that?" the banker stressed in his speech.
      Mr. Fomenko thinks that the bankers' having submitted a complaint about the draft law #0884 on bringing amendments to banking laws to the European Commissioner for Enlargement and European Neighbourhood Policy speaks for their sense of powerlessness and disbelief to strike a compromise, and that their address is unlikely to solve the problem. "Instead of seeking opportunities to participate in discussion of this law in Ukraine, the group of bankers tries to complain and find a kind patron abroad. At present, financial sector reforms are held globally. Experts consider them to be the deepest reforms ever put in place for several past decades. Increase of the charter capital can become one of the ways to consolidate the bank capital and it will enable to stabilize the situation in the banking system. The bank capitalization growth can also improve the protection of depositors and customers of lending financial institutions. However, bankers are aware of the correlation between the regulatory capital and a real reliability of a bank by the example of the collapse of large banks, as the regulatory capital is often created with so called instrumental methods," Dmitry Fomenko underlined.
      "It's worth mentioning that it's not a remedy, because some available instrumental techniques and methods allow for creating financial fakes that give a deceptive impression of a real bank capitalization, which may cause directly contrary results. I think, the results will not take long to appear, taking into account the legerity acquired by our leading bankers in recent years. They can also use the artificial augmentation of capital by issuing loans to investors worth the amount of the bank capital.  So, a transparent dialogue between government and the banking community is required to reach a real reliability. Besides, a financial situation in Ukraine is intricate.  Unfortunately, Ukraine cannot enjoy the backing of powerful EC countries as, for example, Greece can, and we'll have to tackle problems alone if something serious occurs.  The government has proved it can meet halfway, as it was with businessmen protests against the tax reform. The same situation can happen in the bankers' case if banks do want to begin a dialogue," the banker said.   
       "I have been working in the banking system since 1989, and there's hardly been any problem that were impossible to be solved in Ukraine where there was a wish. All issues have been solved within the country in all phases of history, under all political regimes and despite challenges,  and especially it concerns our today's government that has just commenced to create the vertical power and proceeded to systemic reforms in our country.  This also concerns the National Bank of Ukraine headed by Sergey Arbuzov who began to extensively reform the national finance and banking system and showed openness and transparency of his team, which open up opportunities for a dialog with bankers. It is obvious that a different-thinking team of Ukrainian bankers only can put in place real reforms in this sector," Mr. Fomenko pointed out.
        The Ukrainian financier's speech was positively met by experts at the Center for European Democracy Studies.
​