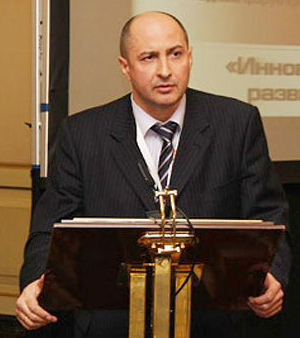 "Although Yeltsin was quite a controversial person, yet in terms of decency he obviously surpassed Putin" – believes President of MAIR industrial group – V.N. Makushin, who had to flee Russia from coercive racket, was put on international wanted list and was forced to surrender his business to the representatives of Russian kleptocracy.
- You consider political version as one of the main versions explaining the causes of your business problems and ongoing criminal prosecution. Why? How could you miff the authorities, or the ruling clan, as you put it?
- I am quite sure in the political nature of my prosecution, firstly because I saw how my relationships with the authorities have been worsening over several years, and secondly, seeing the way the criminal cases against me have been emerging and then – how they have been investigated. Besides, it is indicative who has worked against me and in what manner. For instance, even before institution of criminal investigation, I've already been an FSB target.
- How did you know about that?
- From a number of sources. For instance, one of Stavropol newspapers published some information about my "criminal" background. Though there was nothing compromising me in it – on the contrary: once I punched a ruffian who was teasing my friends. Unfortunately, I broke his jaw and received a conditional sentence of one year. So, I am sure that Stavropol newspaperwoman had no access to 1982 court files, but FSB obviously did. I received a documented confirmation in materials of the criminal case initiated against me. The order on institution of criminal proceedings explicitly stated the following: based on "information of a crime and materials of investigation conducted by department 6 of Economic security service of Federal Security Service Directorate of the Russian Federation for Moscow and Moscow region".
- Did your conflict with authorities develop due to the same political motivation as well?
It did. It all began from my public speaking in media, on TV, at series of economical forums, Russian as well as international, including London forum, where I criticized the government, calling hard names. It was during the period of 2003 – 2007, which is often connected with "equal-distancing of oligarchs" campaign. This actually was a policy of elimination of freethinking businessmen, especially major ones, particularly as businessmen, because through depriving us of our property they could eliminate political opponents. As a matter of fact, I had practically been all alone by 2007. In this regard, in the beginning of 2005 I've heard the following phrase from my fellow journalists: "That's it! Live broadcast with you is forbidden". After this I had conversations with the guys with shoulder boards, who explained to me that I had been "a royal pain in the neck". My relationships with bureaucracy also changed, some ministers and governors I knew were hinting that I had been in trouble. Later they just stopped to communicate with me or to invite me anywhere with "a voting right". So, it all made an impression that I'd shut up in 2007 - 2008, but in fact they made me shut up.
- What did you do?
- What could I do? I was very frustrated about the situation, of course I kept on developing my business, particularly I was reconstructing Sulinsky Metallurgical Plant. We carried out this reconstruction using not only our own funds, but bank loans as well. And the state banks, first of all, North-Caucasian Sberbank, have become the instruments which allowed the ruling clan depriving me of possibility to stand as a dangerous political opponent.
- Why are you so sure that this is a political issue, but not the problems related to loan servicing, which a lot of businessmen faced during the crisis in autumn-spring 2008 - 2009?
- A significant part of problems that businessmen faced during the crisis has arisen not due to the loans themselves, but because of the government policy. There are several facts, which media missed, but they are quite obvious for us – businessmen: which was the struggle with the crisis and whom it was aimed against.
In December 2008 state banks sharply tightened the terms for granting and prolonging the loans, particularly they began to demand personal surety of shareholders when issuing loans to companies. Taking into account the fact that the state banks which received unparalleled assistance from the Ministry of Finance and the Central Bank, were the monopolists in the sphere of corporate financing, these have created problems for many of those who had no close relationships with bureaucracy. On March 23, 2009, a meeting of leaders of force authorities and the state banks management took place in General Prosecutor's Office, at which the latter were promised to receive an extensive support. Finally, on April 29, 2009, the president signed a new revision of bankruptcy law, which contained the provision, ensuring the possibility to impose material liabilities on managers, shareholders and even certain persons, influencing the activities of an enterprise, if all these managers, shareholders and "influencing persons" fail to establish to the satisfaction of the court that they, I'm quoting here: "were acting reasonably and in good faith for the benefit of debtor". What and how can one establish to the satisfaction of our Russian courts – is a well-known fact. Thus, during the crisis the authorities have deliberately established a system as necessary allowing to put a debtor in such conditions, under which he would have to hand over his business by himself.
- This is very interesting, but didn't your problems related to debt servicing arise through the fault of the ruling clan?
- Once again, let's face the facts. During January-March 2009 we were negotiating with VTB and the Bank of Moscow regarding provision of credit, which would enable us to complete repayment of a bonded loan, "scheduled" for April 2. The negotiations were at the final stage, but they were wrecked in the last days of March, just before signing of documents, practically just after the very same meeting in General Prosecutor's Office.
- Do you mean default?
- Yes, but this default was substantially arranged for us. Since, if I had known that the state banks would fail to keep their promise, then, even at that difficult crisis period we would surely have found 1 billion roubles to repay the remaining part of the bonded loan. At the then exchange rate it would be just 30 million dollars. And at that time, even with dropped prices, we had at least 3 million dollars a day on our accounts.
Of course, after the default other creditors received a right to demand from us early fulfillment of obligations towards them. The chain reaction started – all banks and the majority of our business counterparties began to demand early repayment of all debts, though we practically had no outstanding debts.
But, having sold a part of our assets we repaid most of our debts in some two-three months. More precisely, we've paid off all our major debts to private banks, only the indebtedness under that very bonded loan remained overdue, which could not be restructured, since the papers were on hand in more than two hundred companies, and particularly, the loans from the state banks, which we had received from North-Caucasian Sberbank and the Bank of Moscow for restructuring of Krasnosulinsky plant in Rostov region. Talking of, the position of the bank of Moscow during the negotiations with us was absolutely consolidated with Sberbank.
- Why you couldn't pay off Sberbank, as other banks?
Because those who used Sberbank as a tool to bear pressure on me, really did not want us to pay off the credit. Sberbank managers now laid unenforceable and unlawful requirements, then vanished somewhere and did not answer our calls for weeks.
- So, what their proposal was?
- Oh, it was very weird negotiations. In one word, at first they proposed to one of our employees, then to me to transfer a major part of our assets to the firm, specified by the managers of North-Caucasian Sberbank, notably, that firm had nothing to do with the bank itself. Then, that firm would assume our debts. It means we speak about the intention to commit a crime - funnel assets out of the company, which consequently would have problems with other creditors.
- Did you report to law enforcement authorities about that?
- Yes, I told everything personally to the head of FSB of Stavropol territory general Goncharov while meeting him. But since I was on investigation of FSB, that complaint proved to be useless. Moreover, during the meeting which took place in the beginning of June 2009, the governor of Stavropol territory Valery Gayevsky talked turkey to me and said that I had better satisfy the bank's demands. I refused to. Soon tax inspectorate seized the production of Georgievsky valve plant Arzil – this was the plant, located in Stavropol territory, via which North-Caucasian Sberbank had been financing reconstruction of Krasnosulinsky Metallurgical Plant. This resulted in shutdown of the valve plant. After that Stavropol mass media started to accuse me, that motivated by greed, I allegedly had stopped the city-forming enterprise.
- That was the time when you decided to leave the country.
- No, I decided to sell Sulinsky Metallurgical Plant and some other assets in order to swiftly repay the remaining debts. We informed Sberbank of such decision of mine and asked them to give us several months to repay the loans with all accrued interest, penalties, etc. Particularly, I set out these propositions in a letter to Deputy Head of Sberbank Mrs. Sagaydak in the end of July 2009. I also wrote a letter personally to Mr. Gref.
-  What was the answer?
-  There was no answer from Sagaydak and Gref. The actual answer was represented by initiation of several criminal proceedings against the managers of several "MAIR" enterprises on various bases – starting from alleged infringements of licensing requirements up to delays in tax payment. Then, on August 10, 2009, during the meeting of Putin and Gayevsky it was declared that I allegedly created a situation of the second Pikalyovo. (***Pikalyovo located over 200 km east of St. Petersburg became famous all over Russia after a social/economic crisis and massive protests of its dwellers in 2008-2009. All city plants (Pikalyovo alumina refinery plant affiliated to Bazel-Cement owned by Oleg Deripaska Group, a cement factory owned by Eurocement Group, and Metachim – all of them are united with a single technological chain) were frozen in 2008, hot water supply and heating services were cut from houses, and city utility services had a great indebtedness to their employees. All the specified resulted in an outrage among city folks who were deprived of any sustenance).
Information about that conversation is available on prime-minister's and governor's official websites. That night, as it follows from official documents, at 17:30 a criminal case against me personally was initiated.
Now I realize that then – in July 2009 they understood that I really could have repaid the debt soon and they wouldn't be able to bear pressure on me. Then they decided to take away my assets with the help of criminal prosecution. By the way, the case was initiated by investigator Ponomarev, the one who dealt with "Arbat-Prestige" case. As you remember, it went to pieces, however only after the company had been destroyed.
- What did they accuse you of?
Allegedly, I with some "unidentified persons" have stolen Sberbank's loans. The charges were absolutely false and absurd. Of course, the investigation has never been and still is not able to provide a single document, evidencing of misappropriation of at least one rouble of credit funds. Besides, it was simply impossible to steal Sberbank's money, even if someone wanted to. Sberbank had each payment and its reference under control. The details of payees of the major part of credit amounts were specified directly in the texts of loan agreements. At the same time, the equipment received under the loan was pledged to Sberbank at once. And since the loan was granted in several tranches within the year, in case of any breaches in terms of utilization of credit resources, according to the terms of agreement Sberbank had to suspend issuance of eventual tranches immediately. But Sberbank continued to give money – it means there were no breaches. It is not to mention the fact that of course there are all documents in place confirming only intended expenditure of funds.
Arrogance and confidence in their impunity, which had the investigators who framed up this case, is indicative of the fact that they were covered from the extreme top. So we can speak not only about simple raiding – there is an evident political decision.
-  And you left abroad fearing the arrest?
No, at that time I had no idea that among multiple cases initiated against us, there was a case initiated personally against me. By the end of September we made arrangements on sale of a part of MAIR's assets for the amount of several hundreds of million dollars. And since I began to realize that they wanted me not to repay several tens of million dollars of loan money, but to take away my assets which were many times more valuable – several hundreds of million dollars, so I decided to leave "to play it safe".
- Why the sale wasn't accomplished?
The transactions fell through due to the fact that the prospective purchasers were explicitly advised not to buy directly from me, and if somebody wanted to, they could buy from Sberbank later. Moreover, the Sberbank managers who negotiated with us, clearly explained that the problem with the criminal prosecution would not be solved if the purchaser of my plants was anyone except Sberbank.
- But later, in Cyprus you went to jail after all, didn't you?
- Yes, because I was put on international wanted list – I spent some time in custody. In jail I signed the papers on the transaction under extremely disadvantageous conditions. I signed them because they promised to dismiss criminal prosecution against me.
- But that promise has never been fulfilled?
Even more. Right after signing the documents related to transfer of assets to Sberbank-Capital, Russian General Prosecutor's Office sent to Cyprus a request for my extradition. I have to admit, I never expected such dishonesty. In the past, during Yeltsin's rule, for instance, the state tried to keep its promises. Although Yeltsin was quite a controversial person, yet in terms of decency he obviously surpassed Putin many times.
- Then why the criminal prosecution still goes on?
- Law enforcement authorities can always find a formal reason. But essentially I realize that they will not give any opportunity for me to return to Russia at least before the elections, but most probably – as long as I have significant assets there. As you know before this entire story I owned the world's largest metal scrap collection network, and though today it has been significantly gone too, it can work and yield profits. I was ready to sell it, as well as those 23% of shares of Krasnosulinsky plant, which remained mine according to the results of that transaction with Sberbank, but the plans of the ruling clan obviously consist in taking all my remaining assets gratuitously.
- Who else of businessmen, in your opinion, has suffered due to political causes over recent years?
-  For example, Zhenya Chichvarkin. The schemes could be different, it was even not necessary to have some outstanding political stance. I am just sure that the ruling clan doesn't want to have in the country before the elections at least one major businessman, independent from this clan.
Recorded by Oleg Paltsevoy
p.s. Court of the Republic of Cyprus denied Russian Federation to extradite businessman Viktor Makushin
On 7 September, the Cyprian court in the city of Limassol denied extradition of well-known businessman Viktor Makushin to Russia. The court considered charges laid by the Russian Federation against the Head of MAIR industrial group to be unjustified.
That resolution is rather a rare case in the Cyprian judicial practice. For the past few years, Vladislav Kartashov, a former Yukos executive, was the only one to avoid extradition to his motherland Russia. Now, Viktor Makushin is another guy to have stood up for his freedom successfully.
Looking back, MAIR president was known as a consistent opponent and critic to the current Russian government. After the beginning of seizure of the businessman's major assets by government institutions, he had to leave the country in 2009.
​