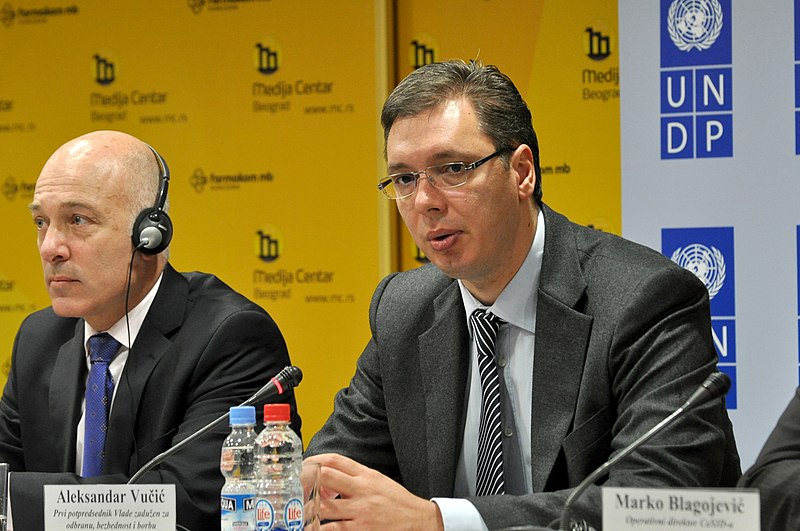 Serbia's President, Aleksandar Vucic, has said that Serbia wants to normalize relations with Kosovo, but still won't sign any agreement with it. This statement came a day after he
verbally agreed to implement a Western-backed plan for the normalization of ties. Serbia has been trying to join the European Union, and one of the conditions of membership is that it normalizes relations with ethnic Albanian-majority Kosovo, which declared independence in 2008 but which Belgrade still considers a Serbian province.
During a meeting with EU officials in a North Macedonian lake resort, Vucic and Kosovo's Prime Minister Albin Kurti agreed to implement steps towards normalization. However, no document was signed, and the EU said it had wanted to go further. Late on Saturday evening, Kurti said that the agreement represented "de facto recognition."
In a press conference on Sunday, Vucic said, "Serbia wants to have normal relations with Kosovo. We want to travel, we want to do business, you cannot live isolated behind 100 metres walls." He added that he didn't want to sign any international legally binding documents with Kosovo because Serbia does not recognize its independence. Vucic clarified that he did not want to sign the agreement on the implementing annex on Saturday nor the EU-backed agreement in Brussels last month.
Under their verbal agreement, Kosovo committed to giving greater autonomy to Serb minority municipalities in the country's north, while Serbia pledged not to block Kosovo's membership in international organizations. However, Serbia still does not recognize Kosovo's independence, and this remains a significant obstacle to normalization of relations.
The EU has been mediating talks between Serbia and Kosovo for years. In 2013, the two countries agreed to normalize relations, but the deal fell apart in 2018. The new talks come amid growing tensions in the region, with Kosovo imposing a 100% tax on goods from Serbia in 2018, and Serbia responding by suspending talks with Kosovo.
Serbia's desire to join the EU has been a significant driving force in its push for normalization with Kosovo. However, some in Serbia remain deeply opposed to any agreement that could be seen as recognition of Kosovo's independence. Vucic has faced criticism from opposition parties for his willingness to engage in talks with Kosovo and the EU, with some accusing him of selling out Serbia's national interests.
Overall, while the verbal agreement between Serbia and Kosovo represents a step towards normalization, there are still significant obstacles to overcome. The issue of Kosovo's independence remains a contentious one, and it is unclear whether Serbia will be willing to make any concessions on this point. Nonetheless, the talks are a positive development, and there is hope that they could eventually lead to a lasting agreement between the two countries. Photo by Medija Centar Beograd, Wikimedia commons.